Create Your Dream Life is a
six-week interactive program
Designed to give you the tools to bring every aspect of your dream life closer to reality, here's what you can expect to explore each week:
Module 1 - TAPPING INTO YOUR TRUE SELF
✔ What it looks like to live in 'flow' and why that should be your goal
✔ How to figure out what truly matters to you, instead of what you're told should matter to you
✔ Ways to find your Why, the drive that will keep you going when you feel like giving up
Module 2 - PRIMING YOUR MIND FOR SUCCESS
✔ How to unlearn and remove the mindsets, beliefs, and habits that have been holding you back
✔ The one mindset shift you must make that will change everything
✔ Diving deep into building the mindsets for lifelong success and growth
Module 3 - DESIGNING YOUR DREAM LIFE
✔ A method for finding and attracting the career you love vs. just settling for one you don't hate
✔ What to do if you have multiple passions and you're afraid of picking the wrong one
✔ How to follow your passion while still being realistic about paying the bills
Module 4 - MAKING YOUR DREAMS A REALITY
✔ Ways to break your dreams down into manageable actions, from daily habits to big life decisions
✔ How to organize your priorities and make an easy-to-follow plan of action
✔ What to do when you have everything planned out but just can't seem to actually start
Module 5 - OVERCOMING FEARS & OBSTACLES
✔ How to stop letting fear get in the way between you and your dreams
✔ A powerful exercise for addressing and overcoming all types of fears: fear of failure, fear of judgment, fear of success, and more.
✔ Ways to beat procrastination, perfectionism, and the inevitable comparison traps
Module 6 - PREPARING FOR A BEAUTIFUL JOURNEY
✔ How to stay committed to your goals and build up consistency in your daily habits
✔ Strategies for when things don't go as planned & how to find motivation again
✔ How to avoid burnout and actually enjoy your dream life journey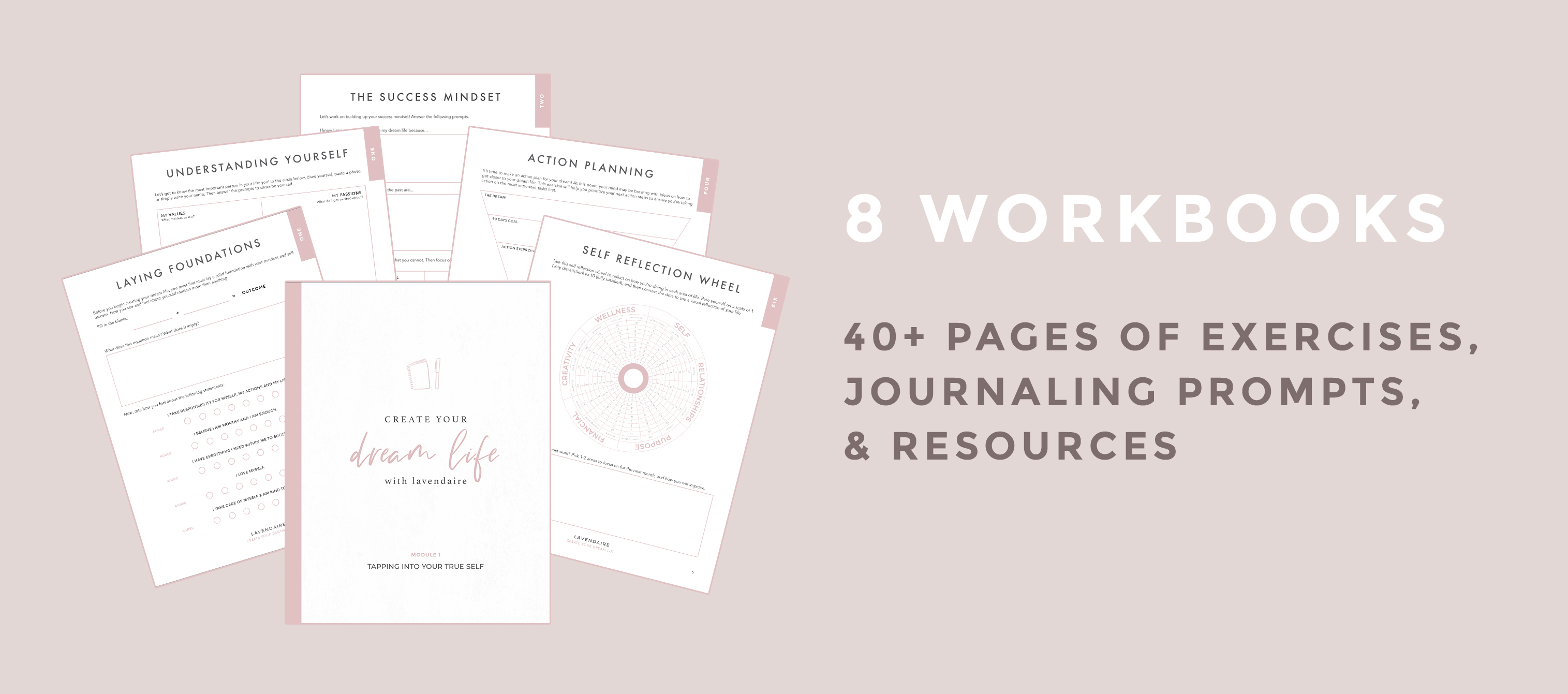 ---
Enjoy these amazing bonuses!
BONUS #1 - LAW OF ATTRACTION & MANIFESTING WORKSHOP ($99 value)
Diving deeper in the law of attraction and manifesting, this bonus workshop breaks down how the law of attraction works and the crucial steps you need to take to make it work for you. You'll learn multiple manifesting exercises to easily and effortlessly attract your dream life to you.
BONUS #2 - HEALING PAST WOUNDS WORKSHOP ($129 value)
Sometimes what holds us back are old wounds and thought patterns that run deep. This bonus workshop helps you look into childhood/past traumas and stories that have shaped who you are, guiding you through addressing, releasing and healing from these wounds so that they no longer hold power over you. Learn to forgive, take back control over your life and write a new ending for yourself.

BONUS #3 - POSITIVE AFFIRMATIONS AUDIO DOWNLOAD ($49 value)
Reprogram your mind for self love and positive thinking with the bonus positive affirmations audio download created specifically for the Create Your Dream Life Course! This audio includes sixteen positive affirmations set to relaxing music, meant to be played on repeat while meditating, driving, or getting ready.
24/7 SUPPORT & ACCOUNTABILITY VIA THE FB COMMUNITY ($99 value)

You'll also get access to our exclusive Facebook community filled with supportive, like-minded beautiful souls who understand what you're going through. This is your space to connect, engage, ask questions, and get accountability to stay committed to your goals. Hear about additional resources and find inspiration and motivation from the group!
3 RECORDED Q&A SESSIONS WITH AILEEN
During the live run of the course (June/July 2019), students participated in live Q&A sessions with Aileen, creator of Lavendaire and your instructor for the course! Aileen answered questions in live video sessions in the Facebook community. You will have access to these recorded sessions to watch whenever you'd like!